Well, the colder the evenings get, the more I crave anything I can eat with a spoon.
Mashed potatoes, creamed spinach, rice pudding and soup. Lots of soup. And what you'll always find in my soup recipes is vegetable stock, so it's only fair that I share my own vegetable stock recipe.
Though I admit with no shame that I often just use store-boughut stock, but I don't think it's better than homemade vegetable stock. In cooking, homemade is usually better and stock is no exception.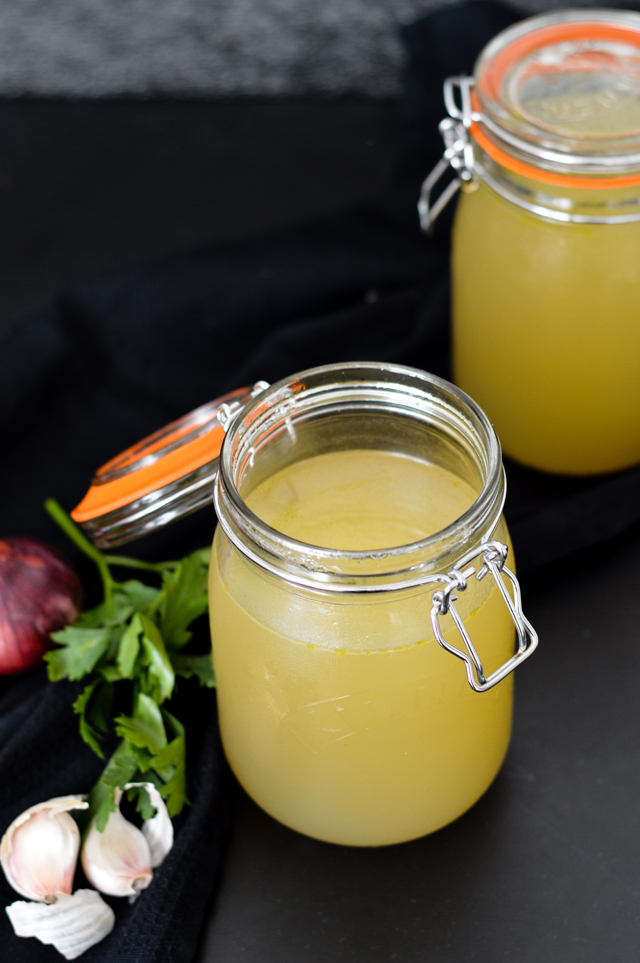 Now, you may not think making stock at home is worth it, but it totally is. You can use it as a base for soups, stews, sauces and add flavor to your risotto or couscous with it. And depending on the season, you can experiment with the vegetables used.
The one I usually make is more of a winter type, because of all the root vegetables. During the summer, tomatoes make a great addition and mushrooms work all year-round. This recipe today is similar to what my mom always did, I tweaked it just a little bit with the addition of leeks.
The great thing about making homemade stock is that it can be made ahead as it freezes beautifully. Although my mom did something different. She used little frozen "stock bags" instead of freezing stock.  They were basically plastic bags filled with a mix of cleaned, chopped veggies, all ready to make nice stock from scratch. I think this is a nice solution for when you want fresh made stock, but don't have the time to cut all the veggies.
I did both this time around, because I had a lot of veggies on hand. And really, once you're already chopping up a storm, a few extra carrots and other vegetables feel like nothing.
Print
Light vegetable stock (homemade)
Vegetable stock is a great addition to soups, risotto, etc.
Recipe makes about 1.8 liters (7 1/2 cups) of stock.
2 tablespoons

olive oil

1

medium red onion, sliced

1

whole large leek, trimmed, halved lengthwise and coarsely chopped

1/2

of large parsnip (about

80g

|

2.8 oz

); peeled, cut into cubes

1/2

of large celeriac (about

360g

|

12.7 oz

); peeled, cut into cubes

1/2

of large rutabaga (about

310g

|

11 oz

); peeled, cut into cubes

7

medium carrots (about

450g

|

15.8 oz

); peeled, cut into chunks

1 cup

fresh flat leaf parsley, coarsely chopped (with stems)

2

cloves garlic, peeled

1

bay leaf

2 teaspoons

sea salt

1 teaspoon

dried thyme

1 teaspoon

whole black peppercorns

2 1/4

liters (10 1/2 cups) water
Instructions
Heat the oil over high heat in a large stockpot. Add onions and stir to coat. After about a minute, stir in the rest of the vegetables and spices. Cook like this for a few minutes, stirring occasionally.
Pour over the water and bring to a simmer. Reduce heat to low and cover the pot. Cook for 1 1/2 hours, stirring occasionally, until the veggies are very soft and the stock is golden.
Season to taste with more salt if necessary, but remember you'll be using this as a base in other dishes so do not add too much salt.
Set up a large bowl and strain the stock through a colander and discard the vegetables.
Strain the stock again through a fine mesh strainer, lined with a paper towel or cheesecloth. Cool then store in airtight containers in the fridge for up to 3 days or in the freezer for up to 6 months.