I've wanted to make a few felt toys for a while now, and with Valentine's day coming I decided to make some hearts for the girls. This is a fun and quick DIY project, something you can do while having coffee and watching TV. And your kitty will be very thankful!
I know mine were. Although I do admit that making these hearts was a bit difficult with the cats in the same room, because they could all smell the catnip, so I had to entertain them while sewing. This prolonged the process, but made it more fun (and a tiny bit annoying), ha. But it's not their fault catnip is so magical.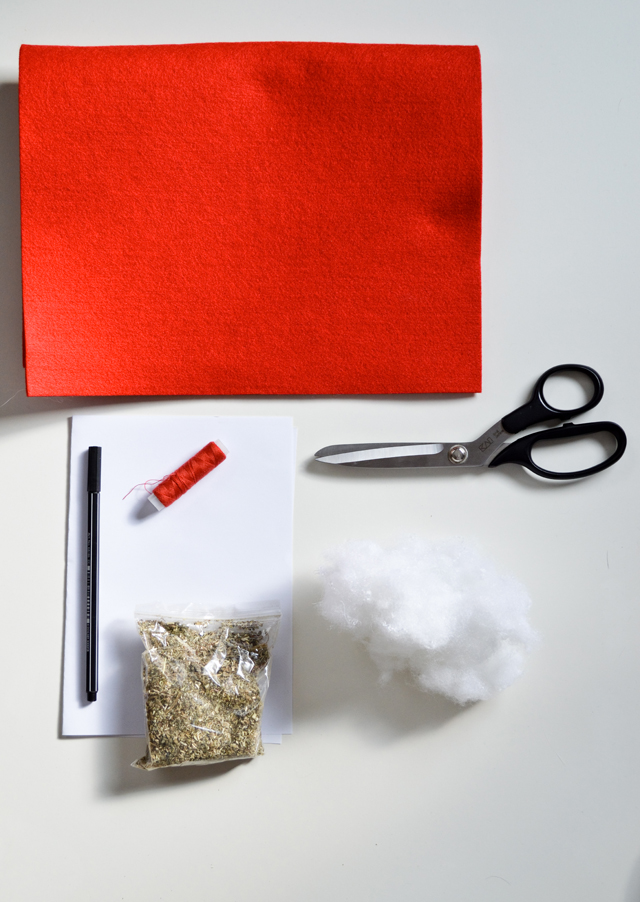 Kim is seriously the best cat model in the world and I am so thankful she's usually willing to work with me. Fergie is far too lazy to really do it, and the skittish Peggy isn't always very confident around a camera. But Kim? She knows how to work it. And looks cute all the time.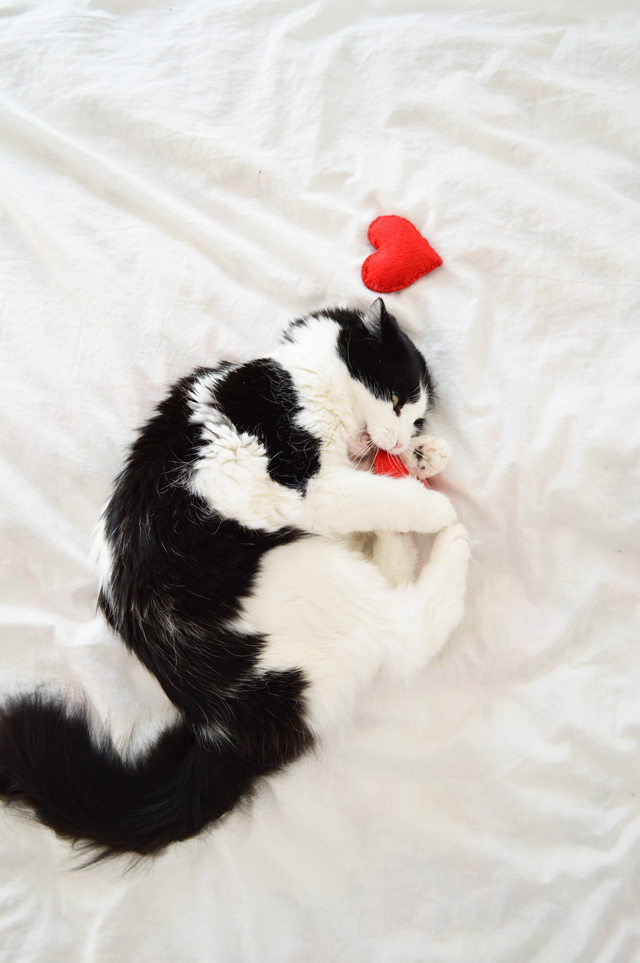 Print
Heart-shaped felt toys for cats
No need to buy toys, when you can make your own in minutes! Cats love them!
Author:
Cook Time:

15 min

Total Time:

15 minutes

Category:

DIY
Felt  (use any thickness you wish, mine was 3.5 mm thick)
Thread (in the colour of your choice) + a needle
Fiberfill stuffing
Catnip (lots of catnip!)
scissors
paper and a pen
Instructions
Take your paper and fold it in half. Draw 1/2 of a heart onto it and then cut it out, so that you get a whole heart. You could also make a heart shape on your computer, or find a template online, and then print it out. But I decided to go "handmade all the way" and just did it by hand, it's quicker too.
Pin your heart to your felt and cut out a felt heart (twice).
Now it's time to start sewing. Put your thread through the needle and tie the ends together. Then put one heart piece on top of the other and hold them together firmly, or pin them together to make things easier.
Start sewing the pieces together at the upper middle of the heart, using a whip stitch (I think this one works best). You want to sew almost all the way around it, about 3/4 of the heart.
Then put in some catnip, next fill if with fiberfill and add catnip again. Continue sewing (and add more fiberfill if needed) until you come to your beginning point. Stitch it together well, make a knot in the end.