Whyyy is it so hot out?
The air is so heavy it makes it hard to breathe and no drink or ice cream are making it better. And my kitchen is now a sauna, which would be wonderful if I wanted a sauna, but I don't.
I do want air conditioning and a pool, and can I have a large porch while I'm at it?
Of course I haven't given up on cooking, but I admit that my ideas seem to start and finish with ice. Dinner has been the toughest one to figure out and I've really only craved quick meals. Anything that requires minimal prep and possibly minimal cooking time. Hummus seems perfect!
I love hummus because it's perfect at any time of the day. It works for  breakfast, lunch, dinner or as a snack; it just depends on what you do with it. To switch things up a bit I've added beets the last few times I've made it and the result is wonderful!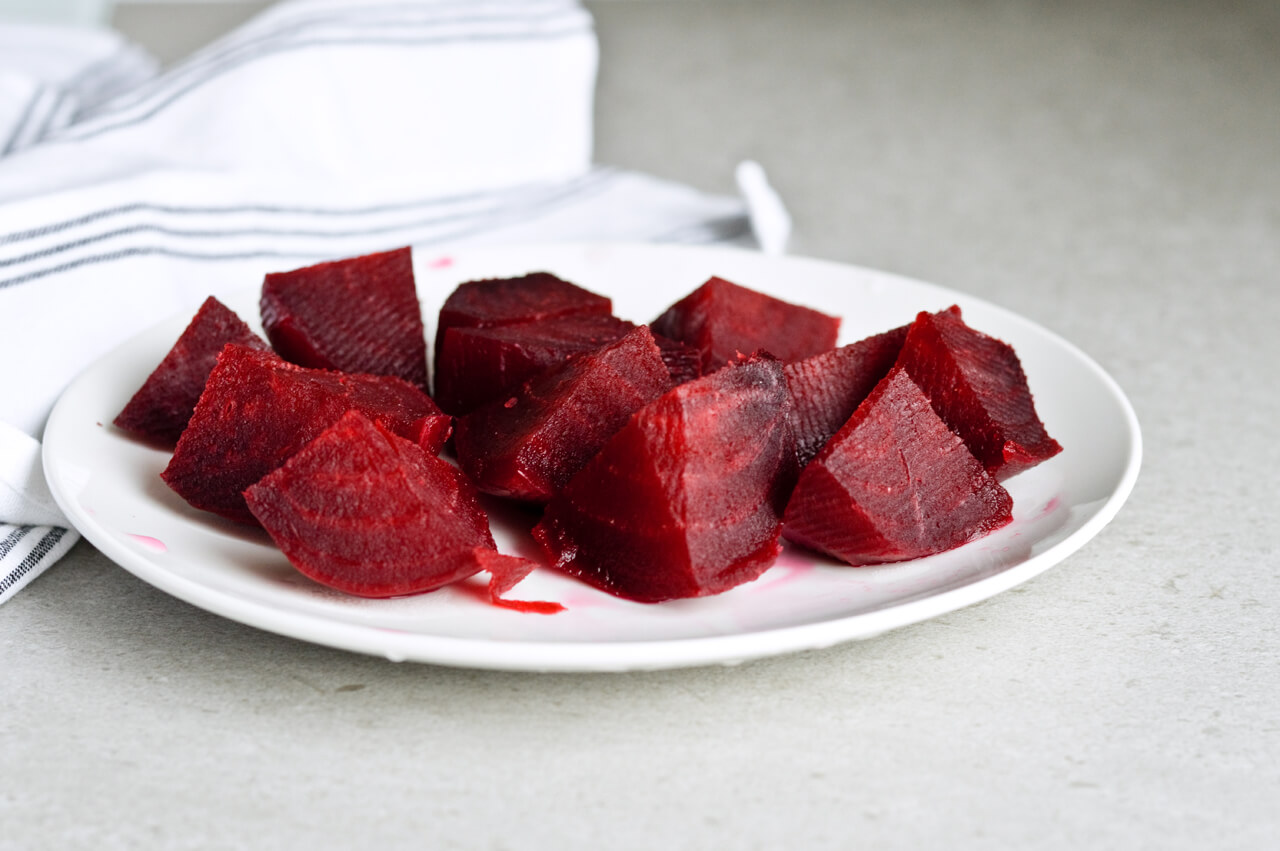 Now, my favorite way to eat hummus is on a slice of fresh bread, topped with cheese and sliced tomatoes or sliced cornichons. I sometimes do both, depending on my mood or what I have on hand. And with cucumbers in season, I am making use of them as well. If I just want a quick snack, a few bread sticks dipped in hummus are really great too.
And while this is a recipe for beet hummus, I make regular hummus the same way. I just might use less lemon juice and add some water to it, to make up for the lack of liquid, which is what beets provide in the case of this creamy beet hummus.
I've found that the quickest way to get the creamiest beet hummus is to blend everything in the food processor for a long time. A lot of people swear by removing the skins from chickpeas, including Deb, but I usually just don't feel like doing that.
Pulsing for a long time seems to do the trick. Scrape the sides of the bowl and repeat. And when it's all seemingly smooth is when the olive oil comes in. It's what I call a mayonnaise trick.

When making homemade mayonnaise, you have to add oil to the yolk mixture in a very slow thin stream, while you simultaneously whisk the mixture on low speed. It's not as difficult as it sounds, it just takes a while, but the key is in that slow, gradual addition of oil.
So as I make hummus I do the same thing. With the food processor mixing on the lowest possible speed, I add olive oil through the lid opening in a slow thin stream. The result is the super duper creamy hummus.
And this creamy beet hummus is really fluffy, slightly sweet and tangy, perfect in sandwiches and wraps or as a dip.
Print
Creamy beet hummus
Classic hummus with a pretty twist! Perfect for sandwiches or as a dip.
Author:
Prep Time:

10 min

Cook Time:

30 min

Total Time:

40 minutes

Category:

Appetizers
220g

(

8 oz

| one large beet) beets

240g

(

1 cup

|

8.5 oz

) cooked chickpeas

50g

(

2

TBSPSs) tahini paste

45

ml (3 TBSPs) fresh lemon juice

1/2 teaspoon

sea salt, more to taste

1/2 teaspoon

garlic powder or

1

clove garlic, grated

25

ml (1 1/2 TBSPs) olive oil + more for serving
Eat with
bread sticks, sliced bread, cheese, cucumbers, cornichons, etc.
Instructions
Cut off the leaves from the beetroot and scrub it clean. Place in a saucepan and cover with water, partially cover saucepan with lid. Cook on high heat and bring to a boil, then lower the heat to medium and keep cooking until tender. This takes about 30 minutes for smaller beets or 50 minutes for one large beet.
*If cooking your own chickpeas which you have previously soaked overnight, start cooking them at the same time as beets.
Remove beets from heat and rinse under cold water. Peel (be careful because they're still hot) and slice into chunks. Transfer to a plate and let cool completely.
To make hummus place chopped beet, chickpeas, tahini, lemon juice, salt and garlic in a food processor. Pulse on high for a few minutes until the ingredients come together. Scrape the sides of the bowl and pulse for another minute or so. The mixture should be uniform and creamy. Taste to see if you want more salt, add pepper if you like.
With the food processor on low, add olive oil to hummus in a slow drip. Once all of the oil is in, the hummus should be creamier. Taste and add more if you wish.
Transfer to a serving bowl and add more oil on top, if desired. Serve with breadsticks, bread or pita wedges, cucumbers, cornichons, cheese or anything else you like.
Store leftover hummus in the fridge, tightly covered with plastic wrap and eat within 3-5 days (although we're done with it in 2 days, so I can't give you an exact time).
Notes
Because chickpeas require soaking, I often use organic jarred chickpeas to speed things up.
You can soak and cook your own. You need about 100g or 1/2 cup dried chickpeas. Soak in water overnight, drain the next day, then transfer to a pot and cover with 500ml | 2 cups water. Bring to a boil and cook for about 30 minutes or until tender and one chickpea easily breaks when you squeeze it with your fingers. Reserve some cooking liquid for thinning the hummus, drain the beans and cool before using.