Blueberry mascarpone cream pie (tart)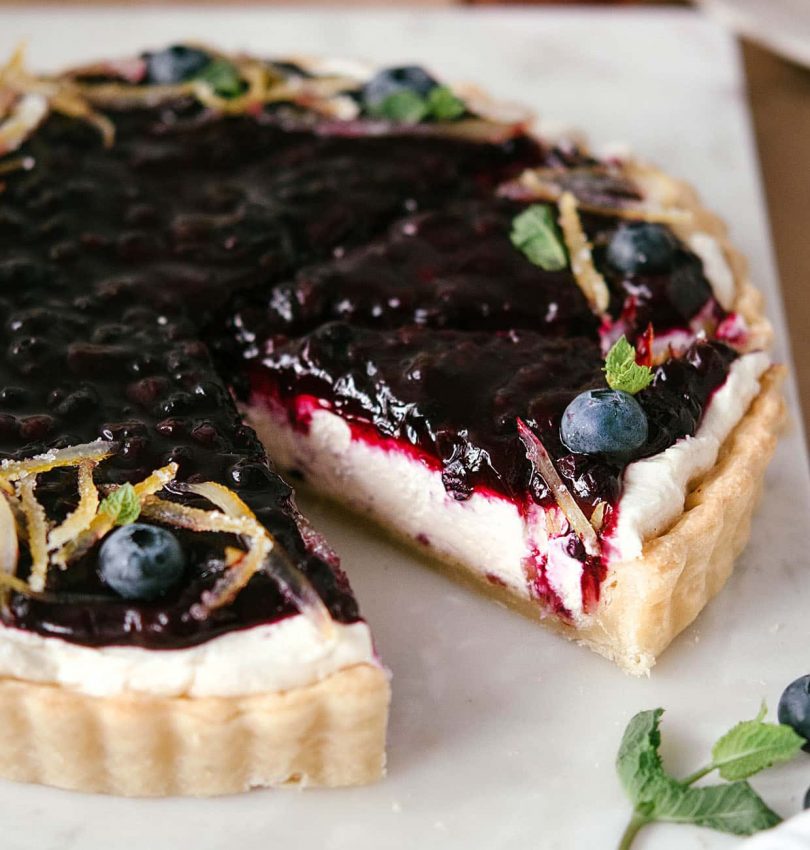 A real treat! Perfect mix of velvety smooth mascarpone cream and jammy blueberries packed in a sweet tart shell. 
Author:
Prep Time:

30 min

Cook Time:

30 min

Total Time:

1 hour

Yield:

8

1

x
Category:

Dessert

Cuisine:

European
Scale
Ingredients
Crust
1 3/4 cups

(

220g

) all-purpose flour

1/2 teaspoon

sea salt 

1 tablespoon

powdered sugar

1 1/4

sticks (10 tbsps | 145g) unsalted butter, cold

3

–

5

tablespoons cold water
Blueberry jam topping
2 cups

(

8oz

|

230g

) wild frozen blueberries 

1/2 cup

(

100g

) white granulated sugar

1/4 cup

(

60

ml) lemon juice

2 tablespoons

corn starch 
Mascarpone filling 
3/4 cup

(

180

ml) whipping cream, straight from the refrigerator 

4 tablespoons

(

40g

) powdered sugar

1 teaspoon

vanilla bean paste or extract 

12oz

(

340g

) mascarpone cheese, straight from the refrigerator 
Make the crust : In a food processor (or a large bowl) whisk together flour, salt and sugar. Grate butter atop the mixture. Pulse 4-6 times (or use a pastry blender) until the mixture is crumbly. Add 3 tablespoons cold water. Stir it into the mix and the dough should start forming clumps. If needed add water, tablespoon by tablespoon, until the dough sticks together. Lay a sheet of plastic wrap on your work surface, dump the dough onto it and knead it into a ball. Flatten into a disk, wrap well and chill in the refrigerator for 2 hours or overnight (or for 30 minutes in the freezer). 
Take dough out of the refrigerator. Let it rest at room temperature for 5 minutes. Generously flour your work surface and rolling pin. Roll out the dough to a 10-inch (26-cm) round, making sure you rotate it every so often, so it doesn't stick as you're rolling it out. 
Wrap dough around the rolling pin and unroll it over the tart pan. Gently fit in the sides, trim any dough hanging over the pan. Pierce the bottom of the crust with a fork. Place in the refrigerator for 15 minutes. Preheat oven to 425°F (215°C).
Take the tart pan out of the freezer. Place a piece of parchment over it. Fill it up with baking beans. Bake for 15 minutes. Remove tart from oven and lower temperature to 375°F (190°C). Remove the beans and parchment paper from the crust. Continue baking the crust for 10 minutes or until the pastry is golden brown. Remove from the oven and let it cool completely. 
Make the mascarpone filling: Combine cream, vanilla and sugar in a medium bowl (or bowl of your mixer). Beat until medium (firm) peaks form. In a separate bowl, lightly mix mascarpone with a spatula. Whisk in the cream until the mixture is smooth. Do not mix aggressively and do not over-mix or your mascarpone will curdle. You want a smooth, velvety, fluffy mixture. 
Evenly fill the tart crust and put it in the refrigerator to set. It needs at least one hour to chill. 
Make the blueberry jam: Combine blueberries, sugar and lemon juice in a medium saucepan. Bring to a boil over medium-high, stirring occasionally. Lower the heat to medium-low. Mix cornstarch with 2 tablespoons of cold water. Pour it into the blueberries while stirring constantly. Cook the sauce for 2-5 minutes, stirring all the time, until it thickens. (It should change from a soup-like consistency to a lighter pudding.) 
Transfer blueberry jam to a bowl and allow to cool completely. It will thicken further as it cools.
Once the mascarpone filling has set and is firmer to the touch, you can add the blueberry topping. Take spoonfuls of the blueberries and place them all over the top over the tart. Gently smooth them over to fill all the gaps. Chill in the refrigerator for 30 minutes allowing the blueberries to stick to mascarpone. Decorate with fresh blueberries (and lemon zest) before serving. Store leftover tart in the refrigerator and eat within 3 days. 
Notes
EQUIPMENT
I'm using an 8.5-inch (22-cm) tart pan with a removable bottom. A 9-inch (23-cm) tart pan works just as well. 
MAKE AHEAD
You can make the tart dough ahead of time. Store it in the refrigerator overnight or in the freezer for up to 3 months. 
Mascarpone filling is best fresh. But a filled, finished tart can easily rest in the refrigerator overnight. 
When cooked, cool blueberry topping to room temperature. Keep it covered in the refrigerator for up to 5 days.
Keywords: summer dessert, blueberries